Protect Our Waters
If you haven't heard of microbeads, they're the tiny bits of plastic that are added to some beauty products to enhance scrubbing action. While the FDA allows their use and while they are generally recognized as safe for the body, sometimes you have to back up a moment and consider the larger picture. Because of their tiny size, they cannot be filtered from the wastewater and end up doing some unwont things in our world's water supply, especially in our oceans.


Our Sea Otters are already too pretty!
Jokes aside: these tiny beads pose a threat to our: lakes, rivers, and the oceans. It's taken time for the consequences to become clear but major cosmetic companies have banded together to pledge their understanding and some are voluntarily removing microbeads from their products. You can lend your support and more safely dispose of the beads you've got.


Why microbeads were made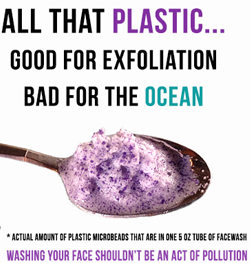 In general exfoliating has a positive effect on skin's health and appearance. The microbead solved an exfoliant problem, namely that some other scrubbing particles are irregular in shape and density to a degree that can cause skin wounds and even scarring.


We use salt and sugar based scrubs on the body but would never use them on our face. Seed-based scrubs are postively jagged, they're just ground woody kernels after all, and they can cause micro-lacerations which can be a real problem for people with sensitivities and immune problems. Rice kernel based products are more gentle but getting regular shapes is still a challenge for the cosmetics industry. Microbeads are cheap and regular in shape and action, they're a great idea with some terrible consequences that outweigh the beauty benefits.


Sponsor a beauty treatment for the planet
Plastic may be a necessary evil on a planet with many billions of humans, and there is reason to hope we can undo our damage to some degree, but doing our part to keep it out of our oceans and our food chain is a matter of our survival and a complex issue. If you're looking for a manual exfoliant for your face and body that won't harm the environment, try a Salux Beauty Cloth.